On September 2, members of ELS, ILSC and Greystone College were delighted to attend the Study Travel Star Awards ceremony at Grosvenor House in London, UK, and to receive two big wins at the event, with ILSC Language Schools / ELS winning the Star Chain School 2023, and Greystone College winning Star Vocational College 2023!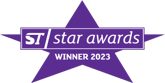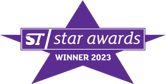 This marks the first year that ELS and ILSC Language Schools campaigned together for the awards since merging in 2022. Both brands received wins in the Chain School category in the past, with ILSC winning in 2013 and 2014, and ELS winning in 2019 and again in 2022.
For Greystone College, this marks the second time the college has won the Star Vocational College award. ''The continued growth and development of Greystone College in both Australia and Canada has become an increasingly important pillar of ILSC's global strategy. Winning this award is a testament to our team's tireless commitment to continually develop innovative and relevant programs that prepare students for success in the global workplace," said Chris Nolan, Chief Sales & Marketing Officer of ELS, ILSC and Greystone College.
Vincent Powell, Executive Vice President of Global Sales added, "We want to thank our many incredible agency partners for their votes and ongoing support – we really wouldn't be here without you! We look forward to continued success working with our agent partners to deliver transformative learning experiences to students from around the globe."
The Study Travel Star Awards are highly respected within the international education industry, and winners are determined through a peer-voting system, with agent partners voting for educational institutions and vice-versa. Winning these agent-voted awards reflects the quality of service, programming, and relationships that winners provide.